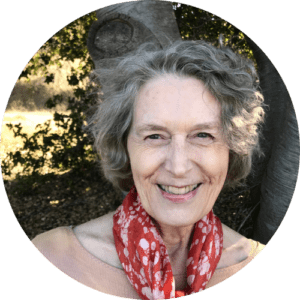 Katherine brought to her training in the Developmental Model of couples therapy — with its concept of differentiation (expressing self and understanding other) — decades of experience as a psychologist working with families and individuals around: mental health challenges; school and work/career issues; general unwanted thoughts, feelings, and behaviors; and couple issues. Recently she has been working more explicitly with the effects on current relationships of earlier trauma (much of which is attachment-based). Work in any of these areas can free clients and their partners for happier and more fulfilling lives.
In keeping with her career-long focus in depth psychology and self-actualization, Katherine finds the Developmental Model useful in helping clients discover and shift beliefs, assumptions, and thought/action patterns of which they were previously not fully aware, but which have been hampering their own individual development as well as contributing to problems in relationship.
Once these patterns are out in the open (and their positive intentions, such as protection, understood), the Model then suggests ways to make fruitful changes. This approach is useful not only with romantic partners and committed couples, but also between friends, co-workers, siblings, and parents with their growing or adult children.
Katherine is a cis-gendered, heterosexual White woman with considerable experience in recent years working with both gay and lesbian couples and individuals (and one transgendered woman) and with Black and brown clients and cross-cultural couples in the San Francisco Bay Area. She continues to enjoy work and friendships with American Black colleagues and community members. Decades ago, she lived and worked in Europe (teaching, translating, psychotherapy, studies at the C.G. Jung-Institut Zürich) for over five years and has near-native fluency in German and Swiss German.
Compatibility conflicts
Drifting apart
Empty nest syndrome
Falling out of love
Family system or in-law challenges
Feeling defeated or unhappy
Hopelessness or desperation
Improving your communication skills
Intimacy or sexual issues
Motivation/Priorities/Roles & Responsibility
Negotiation and decision making skills
Parenting conflicts
Pre-marital issues
Role of power/controlling behavior


SERVICE LOCATIONS

California
United States
Telehealth (virtual)
Credentials

Ph.D., Psy.D., or Ed.D. (Licensed Psychologist) Clinical Psychologist

All well-trained relationship specialists seek to offer advice, feedback, observations, and homework to help your relationship evolve.

After graduating from college, it usually takes about five years of graduate school to get a Ph.D. in Psychology. It then requires an additional two years of supervision and passing a written (and often) an oral exam. There are a few states that allow psychologists to prescribe medications (with additional training) but that is uncommon.

Our professionals can guide you to clarify your individual goals as well as enable you to develop mutually agreed upon and supported relationship goals.
California License #PSY11596
Advanced Training
Developmental Model of Couples Therapy
IFS® (personality-parts work) Level 1+ further training
Coherence Therapy trained & experienced
SoulCollage® Facilitator since 2009
Associate Editor of SoulCollage Inc. newsletters since 2014
Accepted Payment Mode
PayPal, Stripe
Compatibility conflicts
Drifting apart
Empty nest syndrome
Falling out of love
Family system or in-law challenges
Feeling defeated or unhappy
Hopelessness or desperation
Improving your communication skills
Intimacy or sexual issues
Motivation/Priorities/Roles & Responsibility
Negotiation and decision making skills
Parenting conflicts
Pre-marital issues
Role of power/controlling behavior
Clinical Approach: Developmental Model

Years of Experience
20+
Credentials
Ph.D., Psy.D., or Ed.D. (Licensed Psychologist) Clinical Psychologist

All well-trained relationship specialists seek to offer advice, feedback, observations, and homework to help your relationship evolve.

After graduating from college, it usually takes about five years of graduate school to get a Ph.D. in Psychology. It then requires an additional two years of supervision and passing a written (and often) an oral exam. There are a few states that allow psychologists to prescribe medications (with additional training) but that is uncommon.

Our professionals can guide you to clarify your individual goals as well as enable you to develop mutually agreed upon and supported relationship goals.
California License #PSY11596
Advanced Training

Developmental Model of Couples Therapy
IFS® (personality-parts work) Level 1+ further training
Coherence Therapy trained & experienced
SoulCollage® Facilitator since 2009
Associate Editor of SoulCollage Inc. newsletters since 2014
SERVICE LOCATIONS
California
United States
Telehealth (virtual)