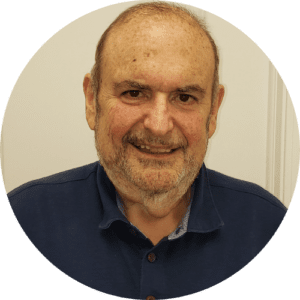 I am an established psychologist, working in the Lakewood, Ohio area with individuals, couples, and families for a number of years. I am interested in how we experience and grow from life events, such as marriage, divorce, death of a loved one, moving, and/or pursuing a new career. In the past, I have been the Director of Mental Health for the City of Cleveland's McCafferty Health Center.
I have been working for a number of years as a couples therapist dealing with marriage, divorce, and other relationship issues. I have training in Gestalt Therapy, and in Ellyn Bader's Couples Developmental Model.
I have also been involved in extensive summer-long training programs at the Ackerman Institute in New York City and with Karl Tomm's family therapy model at the University of Calgary. I am trained in cognitive behavioral therapy and Ericksonian hypnosis.
I consider myself a perpetual student, and have dabbled in behavioralism and other psychodymanic modalities. If I seem appropriate, I am looking forward to meeting you and getting to know you.
Anger management or verbal abuse
Betrayal
Commitment
Compatibility conflicts
Drifting apart
Empty nest syndrome
Falling out of love
Family system or in-law challenges
Feeling defeated or unhappy
Gender identity
Hopelessness or desperation
Improving your communication skills
Intimacy or sexual issues
Jealousy
Lack of trust
Money conflicts
Motivation/Priorities/Roles & Responsibility
Negotiation and decision making skills
Parenting conflicts
Physical or emotional affair
Polyamory or alternative relationships
Pre-marital issues
Role of power/controlling behavior
Trauma


Advanced Training
Developmental Model of Couples Therapy
Cleveland Gestalt Institute Couples & Family Training Certificate
Externship at Ackerman Institute for Couples & Family in NYC
Gift Family Therapy Institute "Narrative" Systemic Family Therapy Training
Summer Intensive Training with Karl Tomm
Studying "Narrative" Systemic Family Therapy University of Calgary (two summer certificates)
Anger management or verbal abuse
Betrayal
Commitment
Compatibility conflicts
Drifting apart
Empty nest syndrome
Falling out of love
Family system or in-law challenges
Feeling defeated or unhappy
Gender identity
Hopelessness or desperation
Improving your communication skills
Intimacy or sexual issues
Jealousy
Lack of trust
Money conflicts
Motivation/Priorities/Roles & Responsibility
Negotiation and decision making skills
Parenting conflicts
Physical or emotional affair
Polyamory or alternative relationships
Pre-marital issues
Role of power/controlling behavior
Trauma
Clinical Approach: Developmental Model

Years of Experience
42+
Advanced Training

Developmental Model of Couples Therapy
Cleveland Gestalt Institute Couples & Family Training Certificate
Externship at Ackerman Institute for Couples & Family in NYC
Gift Family Therapy Institute "Narrative" Systemic Family Therapy Training
Summer Intensive Training with Karl Tomm
Studying "Narrative" Systemic Family Therapy University of Calgary (two summer certificates)